50th Reunion Class Photo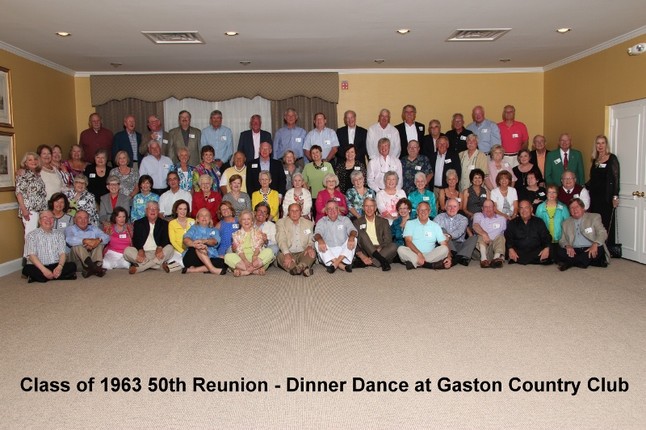 Left to Right:
1) front row: David Lewis, Dexter Bradshaw, Mary Ester Moss, David Darwin, Cookie McLean, Loretta Terry, Becky Dawsey, Diane Smith, Dick Rankin, David Groner, Terry Robinson, John Carson, Syble Martin Latta, Earnest Putnam, Bill Gray, Alfred Griggs, Earl Waters, Linda Jumper, & James "Jim" Freeman
2) second row seated: Linda Stiles, Jane Culbertson (Coffey), Trudy Shuford, Louise Love, Larry Johnson, Mary Helen Johnson, Libby Thompson, Sandra Queen (Ratchford), Adrianna Woody, Ann Gardner, Jill Carpenter, Janine Bell (Dellinger), Nell Baker, Pansy Welch, Teresa Jacobs, Ruth Bradshaw, Leila Thomas , & Nick Huffman.
3) third row standing: Diane Ray, Carolyn Broome, Cathy Broome, Pam Howell, Andy Untz, Sandra Wiggins, Charles Douglas Ledford, Nancy Martin, Gloria McCarter, Ronnie Ransom, Gene Ratchford, Louana Lovin (Queen), Jade Norris, Sherry Parks, Buddy Ashe, Larry Hughes, Sam Query, William Thomas Joines, Linda Mahaffey, Brenda Wooten, Bill Peters, Coach Larry Rhodes, & Kathy Cloninger Freeman
4) fourth row back: Gary Dellinger, Carneal Downey, John Coffey, Wade Williford, John Hawkins, Candler Bumgarner, Ned Carpenter, Tim Bolynn, Norman Wood, Danny Putnam, Butch Adams, Barry McCoig, Clint Walker, Roddy Edwards, & Rocky Holscher.
Our Thanks to Susan Caldwell Wilkie for all of the research and time involved in putting names to all of the above inmates!