In Memory Deceased Class
Robert Joel Whitfield (Robert Joel Whitfield) VIEW PROFILE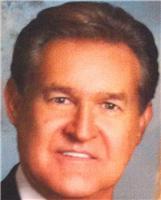 Robert "Joel" Whitfield, 70, died peacefully on April 9, 2015, at his home in Charlotte with wife, Wanda and dog, Abbey, by his side.
He is now in the arms of his Lord and Savior, Jesus Christ. Joel was a top sales executive for many Fortune 500 companies in the 1970s and 80s in Atlanta, Georgia and San Fran-cisco and Los Angeles, Calif., including Mattel Toys, Del Monte Foods, Inglenook Wines, Knudsen Dairy and Sorrento Cheese. Joel was a member of the National Speaker's Association and a paid professional speaker for business and sales. In the early 1990s he was asked to launch a company called Artanis Foods, Inc. Artanis is Sinatra spelled backwards. The company was a line of Frank Sinatra pasta sauces. As the executive vice president, Joel worked with Frank Sinatra on developing the label and marketing. In 1994, Joel accepted the position of executive vice president of sales for Triangle Ice Company, a small family-owned company based out of Lumberton, NC where he increased sales so rapidly it enabled the company to be sold to Reddy Ice of Dallas, Texas, the largest U.S. maker of packaged ice for an estimated $4 million. In high school, at Ashley High in Gastonia, NC, Joel was a star baseball player, having many minor league scouts looking at him. He was named "most valuable player" his senior year. He graduated col-lege from West Carolina University with a degree in business. He served in the Army reserves. In his adult life, he became a phenomenal tennis player, known for his un-returnable serve. He played on the Wilmington, NC men's tennis ladder and won many tennis tournaments at sales conventions in Hilton Head, SC. He loved dogs and loved to travel with Wanda. Joel was active in Evangelism Explosion Inter-national (EE), a ministry that shares the message of Jesus Christ. In 2004, he lost his high school sweetheart and wife of 35 years, Kay, to cancer. He met Wanda and called her his angel. They would have celebrated 10 years of marriage later this month. He is preceded in death by his first wife, Kay Whitfield; sister, Robbie Beaver; and parents, Lois and Robert Broughton Whitfield.Joel is survived by his wife, Wanda; three step-sons, Blaire, Brandon and Jordan Bryant; his daughter and son-in-law, Amanda and Brandon Lisk; and grandchildren, Emma Claire and Reid Lisk as well as his brother and sister-in-law, Rev. Raymond and Marie Whitfield; nephews, Kevin and Bryan Whitfield; his sister and brother-in-law, Judy and Eric Hicks; nephew, Scott Armstrong; brother-in-law, Mayford Beaver; niece, Kathy, and nephew, Mark Beaver.A graveside service officiated by Joel's brother, Rev. Raymond Whitfieald, will be held Sunday, April 12 at 2 p.m. at Oakdale Cemetery, 520 North 15th Street, Wilmington, NC. In lieu of flowers, the family asks donations be made to Evangelism Explosion in honor of Joel Whit-field, P.O. Box 753, Arden, NC 28704, or the American Cancer Association or American Heart Association. Robertson Funeral & Cremation Service is serving the family, www.throbertson.com.
Click here to see Robert Joel's last Profile entry.